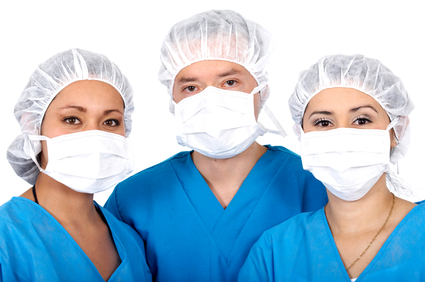 If you have been looking around for an accurate surgical technologist job description, you will find exactly what you have been searching for in the following article. We will be looking at the various duties and responsibilities associated with surgical technologists including the divisions of labor by respective position.
Definition of a Surgical Technologist
The term "surgical technologist" refers to an allied health professional who works as an important part of the surgical team by assisting and aiding the patient and surgeon.  A basic surgical technologist job description maintains that they work under the supervision of a surgeon and help facilitate a safe, effective and orderly operating room in order to maximize the patient's safety.
While the proper term is "surgical technologist", they can be called surgical techs, surgical technicians, operating room techs and even scrub techs interchangeably. Surgical techs must graduate from an accredited surgical technology program and successfully pass a national exam. With some additional education and training, surgical technologists can advance to the role of a surgical first assistant, work in administrative positions or become part of a specialized field of interest like cardiac surgery, plastic surgery or pediatric surgery.
Standard Surgical Technologist Job Descriptions
In most scenarios, you will find that surgical techs will work in specific roles in order to better aid the surgical team. These roles include scrub surgical technologist, circulating surgical technologist and second assisting technologist. Below is a detailed surgical technologist job description of each of these defined positions.
Scrub Surgical Technologist
When most people think of what surgical techs do, they think of the scrub surgical technologist job description. The scrub tech is the one who handles the all of the equipment, instruments and supplies during surgery as well as protect the sterile area. They must have a clear understanding of the surgical procedure being performed which will help the scrub tech to anticipate any needs of the surgeon. The list of duties for a scrub technologist also includes:
Makes sure all supplies and equipment needed for surgical procedure are present and in working order
Sets up a sterile field and operating room table with the proper instruments, equipment, supplies and any medication or solutions needed for the surgical procedure
Assists in draping the sterile field
Helps surgeon and assistants with their gowns and gloves to maintain sterile environment
Maintains the strictest standards of sterile technique during surgery
Passes instruments, supplies and equipment to the surgeon
Prepares and handles sterile dressings
Performs counts with the circulating surgical technologist before the start of surgery and prior to the incision
Prepares and cleans all instruments for sterilization
Assists other team members with terminal cleaning of the operating room and preps for next patient

Circulating Surgical Technologist
Unlike the other surgical technologist, the circulating surgical tech job description is one of being unsterile. They gather supplies, check charts and help move the patient in to and out of the operating room. Some of their duties include:
Gathers sterile and unsterile supplies for the surgical procedure
Opens sterile supplies for placement by the scrub tech
Meets with patient to assess comfort and safety measures
Provides verbal and physical reassurance to the patient
Checks patient's charts, reaffirms the patient's identity and verifies the type of surgery with consent forms
Brings patient to operating room
Assists the anesthesia team, if needed
Helps position patient
Prepares patient's skin before surgical team drapes
Prior to surgical procedure, applies monitors, electrosurgical grounding pads, etc.
Anticipates and obtains any additional supplies needed during surgery
Takes care of specimens, samples and discarded tissue
Performs counts with the scrub surgical technologist before the start of surgery and prior to the incision
Accurately keeps records throughout surgery
Secures dressings after incision is closed
Assists in cleaning of operating room and prepping for next patient
May need to perform urinary catheterization
Second Assisting Surgical Technologist
The role of the second assisting technologist is to help the surgeon and the first assistant during surgery. This is done by performing a number of technical tasks that do not involve clamping, cutting or the suturing of tissue. Second assisting techs are closer to scrub techs than first assistants, even if the name does not imply that distinction. The second assisting surgical technologist job description includes but is not necessarily exclusive to the following:
Suctions and or sponges operative site when needed
Holds instruments or retractors as directed by the surgeon
Attaches electrocautery to proper clamps on bleeders
Helps connect drains to the suction equipment
Measures and cuts suture material when directed by surgeon
Assists in applying dressings on closed incision
As mentioned earlier, these three surgical tech positions have slightly different responsibilities and will typically earn significantly different salaries as a result. As one can see the surgical technologist job description is very important in the makeup and success of surgical procedures. If you think you have what it takes and really want to help others by working in the healthcare field, start your training today and start working toward your dream job as a surgical technician.