If you find yourself asking what the advantages of online surgical tech programs are, then you have come to the right place. In this article we will be going over some the major benefits aspiring surgical tech students can find by going to a virtual classroom environment. Hopefully we will be able to help see the advantages of completing your surgical tech training online and make the right choice for you.
Saving Money with Online Surgical Tech Schools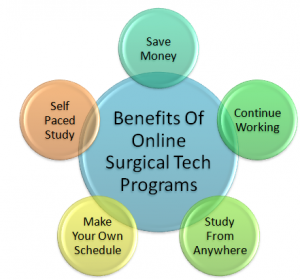 Believe it or not, you will be able to save some money when studying in an online surgical tech school. Some of these savings include:
Lower tuition cost 
Reduction or elimination of activity fees
Using e-textbooks instead of traditional textbooks
Saving money on gas or public transportation
Possible lower housing and food costs
Scheduling Online Classes
Scheduling might be one of the most important advantages to online classes, especially to those that work full-time or have families. The ability to work in your studying and classes within your already busy life is a big bonus for a lot of people. No longer will you have to put all of your life on hold, miss important family commitments or leave your current job to go to school. All you have to do is set time aside to study.
Unlike a traditional school that you receive a rigid schedule, you will be able to attend your classes any time of the day. Think about it this way, you could take a class at lunch, after dinner or even after the family goes to bed at night. It is recommended that you set up you set up a schedule and follow it; you will find the flexibility to be a tremendous asset towards your education.
The Importance of Pacing Yourself
Another major advantage for taking online surgical tech programs is being able to study at your own pace. No longer are you required to follow the flow of the class no matter how difficult or easy the subject matter seems to be. You can spend some extra time on the parts that are giving your some issues and speed up a bit through the parts that you find simple.  With some dedication, you may be able to finish the program faster than a traditional school cutting your class time down by as much as a couple of months or so.
Your Location and Distance Learning Programs
For some, another big positive distance learning programs is that you will not have to relocate or commute to college. Instead, you can take your classes from almost anywhere in the world as long as you have a computer and an internet connection. This is particularly handy for those who live in remote areas or not close enough to an accredited surgical tech school or parents with small children. Even if you don't live in a rural area or have children, you might just feel more comfortable studying at home or even poolside while on vacation.
Learning in an Online Surgical Tech Program

Online surgical tech programs that have received the proper credentials from both the Commission of Accreditation of Allied Health Education Programs (CAAHEP) and the Accreditation Review Committee on Education in Surgical Technology (ARC-ST) guarantee you will use the same curriculum as a traditional school. Part of your training will be an externship and you will find some online school will help you find a position the clinical practicum necessary to qualify to take your certification exam. It is important to find out if your selected program offers this placement opportunity.
As you can see, there are a lot of advantages to earning your surgical tech certification online. Saving time, money and being able to study from home are some pretty solid reasons.  It is something really for you to consider but the choice to take a distance learning class is really up to you and your lifestyle.