After completing your training and exams, now is the perfect time find a surgical tech job. While job hunting can be painful and somewhat degrading, there are plenty of tools and resources that can help avoid a lot of the pain.
Surgical Technician Job Outlook
Surgical technology, like most healthcare occupations, weathers bad economies and other factors that seem to cripple other occupations. In fact, surgical technologists are one of the fastest growing occupations in the healthcare field with a projected growth of 19% until at least 2020. According to the Bureau of Labor Statistics (BLS), the average median salary for surgical techs in 2010 was $39,920. However, your surgical tech salary will depend on experience, specialty and your location in the country like most healthcare occupations.
Where to Find Surgical Tech Positions
It should not come as a surprise that a vast majority of surgical techs find employment in surgical hospitals but there are positions in outpatient care centers and dentists offices. Below we have listed a number of different ways that can help you land that surgical tech job.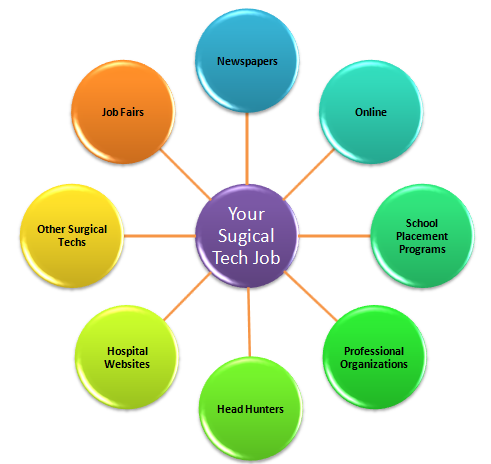 Newspaper – It might sound a bit old school, but you would be amazed on the number of healthcare facilities that still rely on the newspaper for their job listings.
Online – Besides the big national sites like Monster.com or Indeed.com, you can look for more localized information like Craigslist. It also doesn't hurt to just type in "surgical tech jobs" as a keyword in your search engine.
School – You will find that most schools and colleges have a job placement service or job boards that can help you start your search.
Professional Organizations – The Association of Surgical Technologies has a great site that offers a lot of information, but most important to you is their job board. You can also join surgical tech groups on linkedin.com which at times will announce job openings.
Head Hunters – There is headhunters specializing in healthcare such as Healthecareers.com and Medicalstaffrecruiters.com.
Hospital and Healthcare Websites – Look through the career centers at local healthcare facilities to see if there any listed openings in your area.
Surgical Techs – Another good place to go is other surgical techs including your former classmates. Someone might know of a job opening or keep you in mind if they hear of an opening.
Job Fairs – Keep an eye out for local job fairs, especially those dealing with the healthcare industry. Talking to the recruiters is a great way to get your name out there.
Hopefully these tips on finding a surgical tech job will help you out. While there is no sure way path to finding a job, at least you know that your position is in demand and have the tools and resources to better your chances. Good luck on your search!