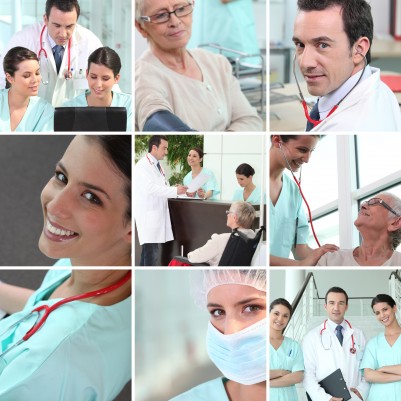 Recently heard a good question that needs to be answered; what is the difference between a surgical technologist and a sterile processing technician? This is an excellent question due to the fact that there is some crossover in the kinds of training both of these professions must undergo as well as some similar functions.
Outside of a few similarities, there are some major differences between these professions from the type of schooling one would receive to the actual responsibilities the job entails. If you were looking for a new career, you can't go wrong with either of these professions but it might be better if you knew what the differences really are. In the following article, we will examine the differences between each of these careers and hopefully provide you with an idea on what career path you may want to pursue.
Job Descriptions
The roles of a surgical technologist and that of a sterile processing technician have a lot to do with keeping the medical instrument and equipment sterile and safe. The similarity between these too professions starts to separate from each other when it comes to work environment and some of the duties.
Most of the duties of a surgical technologist are in the operating room helping the surgical team directly by aiding and performing tasks during the procedure. The sterile processing technician, on the other hand, is outside of the OR and mainly deals with the cleaning and sterilization of equipment and medical instruments. Let's look a little bit closer at their job descriptions.
Surgical Technician Job Description
Surgical technologists have a number of duties to perform in and out of the operating room as well as before and after surgery. A list of some – but not all – of their duties include:
Setting operating room for surgical procedure
Preparing and transporting patient to and from OR
Gathering instruments and equipment needed for surgery
Monitoring patient's vital signs
Assisting surgical team with gowns and gloves
Keeping operating area as a sterile zone
Disposing of used sponges, dressings, needles and gauze
Takes charge of specimens and samples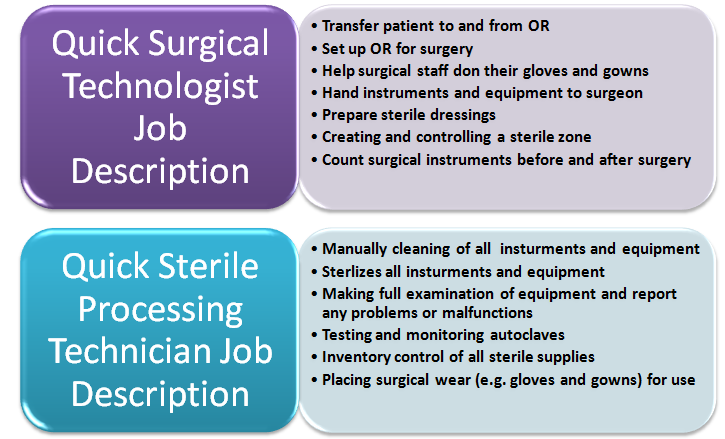 Sterile Processing Technician Job Description
The responsibility of a sterile processing technician involves keeping the medical facility as sterile as possible by sterilizing equipment, instruments and other needed devices. They are rarely, if ever, in the operating room during a procedure. Some of the duties of a sterile processing technician include:
Manually cleaning of medical instruments, equipment and surgical trays
Performs sterilizations on the above said items
Examines equipment and instruments as well as reports any problems
Testing and monitoring of autoclaves
Assembling all necessary equipment such as surgical trays
Keeping inventory and ordering all needed sterile supplies
Packing and storing of sterile supplies
Setting up surgical wear (e.g. gowns, sheets, gloves, masks) for use
Training and Certification
Most of those working in either position has attended a community college, vocational or technical school. The training programs for both of these normally include both classroom learning and a laboratory or externship. Below you will see more specifics on the training programs for each profession.
Surgical Technologist Education and Certification
There are over 450 Commission on Accreditation of Allied Health Education Programs (CAAHEP) accredited surgical technology training programs offered throughout the United States, plus a number of online programs to choose from. Students are required to take courses in anatomy, biochemistry, medical terminology and ethics, pharmacology and biology, to name a few.
Important information you need to know about these programs are:
Must have at least a high school diploma or the equivalent
Programs vary from 9 to 24 months depending the degree or certificate
Students will learn in both a classroom environment and clinical experience
Completion of program will grant you access to take the NBSTSA exam
After you have completed your educational requirements, even though it is not mandatory to do so, it is advised that you take the National Board of Surgical Technology and Surgical Assisting certification (NBSTSA) exam to become a certified surgical technologist (CST).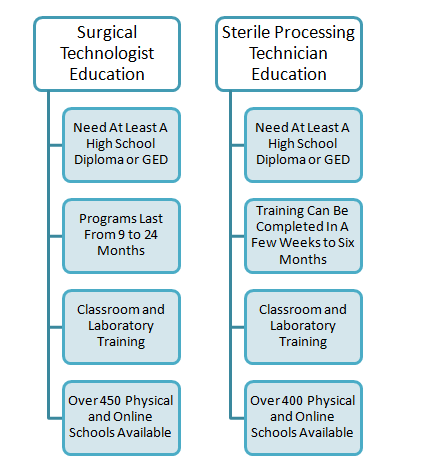 Sterile Processing Technician Education and Certification
There are over 400 schools that offer training programs to become a sterile processing technician in the United States including a number of online programs. Most students will go through the certificate (non-degree) route in order to start a career path the quickest. Students will learn methods of sterilizing, storing, cleaning and inspecting equipment and instruments before and after surgeries as well as courses in microbiology, medical terminology and disease control.
Other information you will need for enrollment in one of these programs are:
You will need to have a high school diploma, GED or higher
Training programs last anywhere from a few weeks upwards to six months
The program will have both a classroom education as well as an externship
Some schools may offer a track for those considering an associate's degree or higher
There is a voluntary certification exam that may be taken after completion of the training program. These certifications can come from either the Certification Board for Sterile Processing and Distribution (CBSPD) or the National Board of Surgical Technology and Surgical Assisting (NBSTSA). It is recommended that you complete the certification process in order to open up more employment opportunities as well as potential earning a higher salary.
Other Factors
There are some other factors that may help you decide which career path would be right for you. We've listed a few of the most obvious factors below in order to help you.
Salary
In May 2011, the U.S. Bureau of Labor Statistics (BLS) placed the median pay for surgical technologists around $42,000 a year or roughly $20 an hour. The BLS does not have a listing for sterile processing technicians but Indeed.com lists the median salary as $38,000, or roughly $19.00 an hour. As you can see the difference is minor but the reported high end of both professions are significantly different as surgical techs have a higher top end pay than those of a sterile processing tech.
Outlook
The BLS projected outlook for the growth of jobs for surgical technologists is expected to expand by 19% or around 17,000 jobs over the next decade which is faster than the national average. Sterile processing technicians, on the other hand, are only expected to increase by 11% which equates to around 5,000 new employment opportunities.
Personality
Another important distinction between these two jobs relates to your own personality. If you one that likes to be in the thick of the action then surgical technician would be the way to go, however if you one that shuns the spotlight then you may opt to become a central sterile processing technician. Some people may prefer the challenges of the fast-paced and demanding environment that is the surgical technologist profession while others may like to be more behind the scenes such as a sterile processing tech.
No matter which profession piques your interest, you can't really go wrong. Both offer a good salary, rewarding benefits and knowledge that you are helping others. These positions can greatly evolve over the next decade as the advancement of medical technology continues to jump leaps and bounds ahead. Now you just have to make the decision and we are here to help.